The award winning gardens of Birr Castle are rich in amazing rare trees, flowers, feats of science and engineering and wonderful wildlife.
The Parsons family invite you to explore one of the most extraordinary places in Ireland. Created over generations, it is an environmental and scientific time capsule.
Science Center
Travel back in time with the Parsons family, Earls of Rosse, when Birr Castle was a hub of scientific discovery and innovation. The interactive galleries reveal the wonders of early photography, engineering, astronomy and botany.
Award Winning Gardens
The Award Winning Millennium Gardens, surrounded by the romantic hornbeam cloister walk, include plants exclusive to this Demesne. It also proudly houses the world's tallest box hedges and tucked away in an intimate courtyard, the pergola with a spectacular Wisteria, which is 90 years old.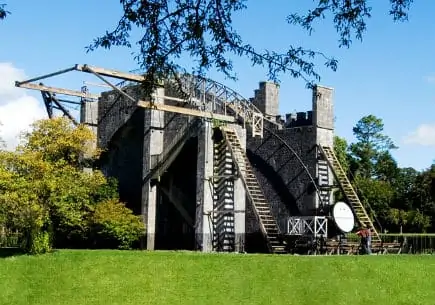 Telescope
Discover the largest Telescope in the world for over 70 years, created by the Third earl of Rosse in the 1840's. This world famous telescope has been fully restored and sits at the centre of the Demesne to be viewed by all who visit.
For more about the wonderful Birr Castle, the Millenium Gardens and the Science Centre, please see the official Birr Castle website.
For more about the other partner of the Giants Grove project, please see the official Crann website.